At present, more and more wedding planners and brides are tending to choose Real Touch flowers for decoration of their ceremonies. They are prompted by undeniable advantages of such flowers: they keep longer their appearance, vast variety of color tones and kinds of flowers, are resistant to unfavorable weather conditions and hypoallergenic.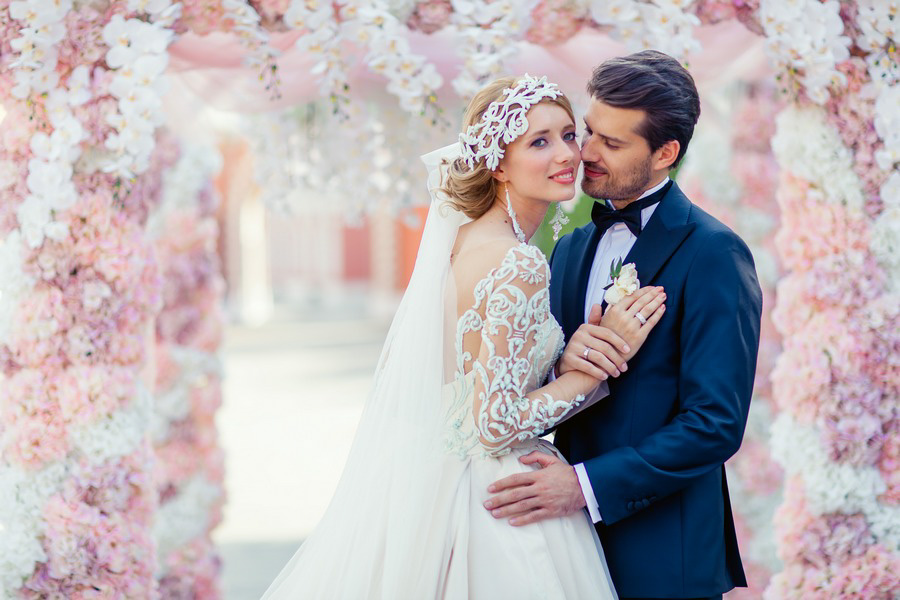 If a customer uses Real Touch flowers at the wedding, he can view all elements of flower decorations in advance: table compositions, entrance elements, flower walls, photo shoot spaces and accessories for bride and bridesmaids.
Because Real Touch flowers can keep consumer appeal, on condition of proper care, from 6 months to 2 years, it won't be any problem to make parts of wedding decorations beforehand.
Most part of the wedding and sometimes the whole event take place in the open air, but unfortunately, very often we observe rapid change of weather conditions Unlike fresh flowers, Real Touch flowers can withstand both freezing temperatures and abnormal heat.
Every bride wants that just her wedding will be the most special and unforgettable. All wedding participants can get lots of smiles and positive emotions thanks to use of bright and colorful Real Touch flowers of different kinds and color tones. Wide variety of Real Touch flowers allows to create the most unusual decorative constructions, which can impress even the most sophisticated guests.
As it doesn't require any special structures for maintenance of flowers in viable state, application of Real Touch flowers facilitates the process of their assembling at the place of festive occasion; if necessary, any changes into appearance of flower decorative components can be made quickly on the spot without extra efforts and special materials.
Real Touch flowers are unaffected by external physical action, and it is especially important in case of events where close contact of guests with flowers is possible, because all components of a flower can be curved, twisted or deformed (take any shape), and then the same easily can be returned into their initial state.
Inviting a large number of people to come to your wedding, you don't know beforehand if your guests are allergic to pollen or to other components of flowers. Real Touch flowers are hypoallergic, as they don't contain pollen, and it is safe both for children and animals to be close to such flowers.
Huge weddings are the most suitable to be decorated with Real Touch flowers because it is better to make large flower constructions (flower walls, flower chandeliers, flower ceiling and so on) from light Real Touch flowers, that in contrast to fresh flowers won't require heavy constructions and won't create danger for guests of the festive event. Moreover, by making large constructions from fresh flowers, it is very possible that when you create the next construction from fresh flowers, the previous construction will have already faded.
In a word, Real Touch flowers are the most suitable for decoration of a wedding in view of their colorfulness, reality and ease in assembling. Leading wedding decorators all over the world have successfully accepted Real Touch flowers, and this is a real trend in modern world. For those who are not ready to stop using fresh flowers, we offer to combine skillfully fresh flowers with Real Touch flowers, and you will be amazed that your guests will not be able to distinguish Real Touch flowers from the real ones.