We are often asked questions like: Is it ok to use fake flowers for weddings? In fact, there are a lot of reasons why you should choose artificial flowers for your wedding.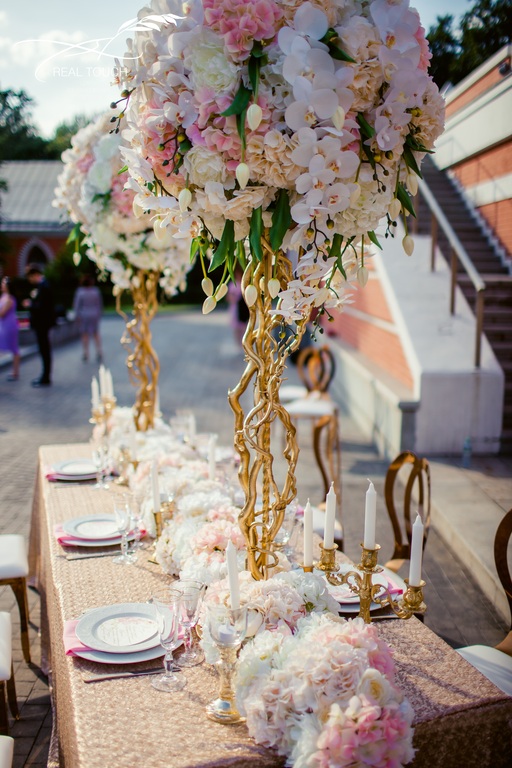 Nowadays, more and more wedding planners and brides choose to decorate their special events with Real Touch flowers that have indisputable advantages: they are long-lasting and durable, resistant to poor weather conditions, available all year round, have a huge variety of colors, and have no pollen that may cause allergic reactions.
When using Real Touch flowers at a wedding, customers can view all parts of the floral decorations in advance: table centerpieces, arches, flower walls, photo zones, accessories for the bride and her bridesmaids, etc. With proper care, artificial blooms retain their qualities and perfect appearance from six months to 2 years, so early installation of all of the elements of the wedding decor will not be a problem.
Sometimes most part of the ceremony or even the entire event takes place in the open air, but, unfortunately, the weather conditions may change sharply. Unlike fresh flowers, artificial flowers can withstand both sub-zero temperatures and hot weather.
Every bride wants her wedding to be the most special and unforgettable. The use of vibrant and colorful faux flowers of different types and shades may bring a lot of positive emotions to all wedding participants. A wide variety of Real Touch blooms that are available in any season will allow you to create the most unusual wedding settings that will amaze even the most sophisticated guests.

The use of artificial plants makes it easier to install them at the venue since there is no need for special structures to maintain them in a viable state and, if necessary, any changes in the floral decoration can be made promptly right on the spot without additional efforts or special materials.
Real Touch flowers are not sensitive to external physical influences, which is especially important at an event where guests have direct access to the floral decor. Being flexible and durable, artificial flowers can be safely touched, bent, twisted, moved, or rearranged, and then just as easily put to their original shape with the help of simple techniques.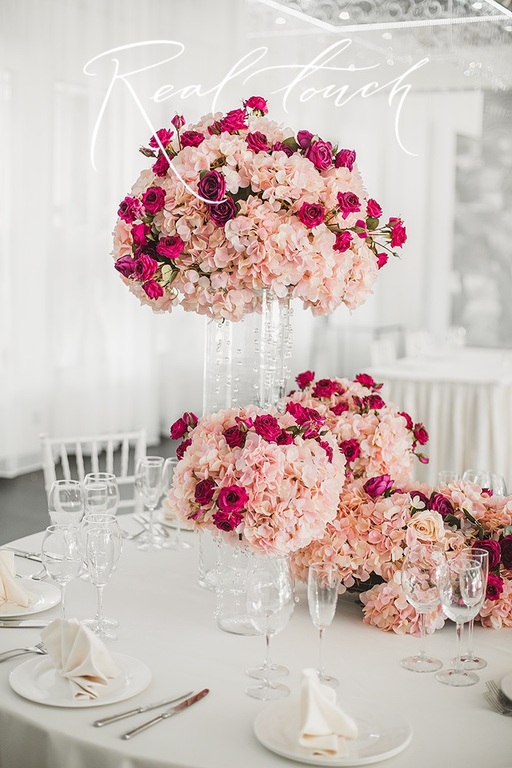 When inviting a large number of people to a wedding, you do not know in advance if they are allergic to pollen or other components of flowers. Real Touch products are hypoallergenic; they are also safe for both children and animals.
Decorating with Real Touch flowers is the perfect solution for large-scale weddings, as large floral installations (flower walls, flower chandeliers, flower ceilings, etc.) are best done with lightweight artificial blooms, which, unlike living ones, do not require heavy structures and will not pose a threat to guests of the event. Also, when creating large-scale designs from fresh flowers, there is a great chance that while you are making the next decorative element, the previous one has already withered.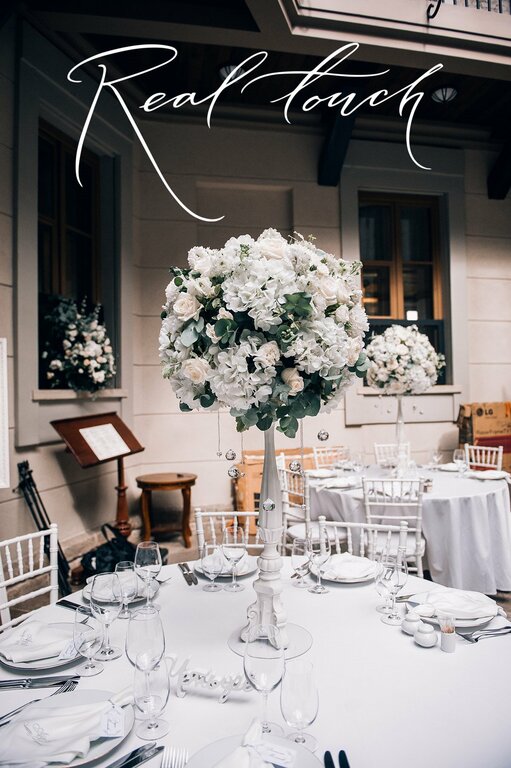 To sum up, Real Touch flowers are best suited for wedding decoration thanks to their colorfulness and diversity, realism and ease of installation. Leading wedding decorators around the world have adopted artificial flowers and this has become a trend in the modern world. For those who are not ready to completely abandon natural plants, we recommend mixing fresh and faux flowers, and you will be amazed at how your guests will not be able to distinguish Real Touch flowers from the living ones.