Artificial trees, like sculptures, bring originality, sophistication and style to a boring interior. Moreover, they can become key elements of a room's décor or divide a space into separate functional zones.
Real Touch offers a large assortment of artificial trees for indoor and outdoor landscaping.
The best collection of faux trees available at wholesale prices is represented on our website. 


Real Touch trees are:
 Incredibly realistic in every detail
 Elaborately crafted
 Made of modern materials
 Long-lasting and durable
 Maintenance-free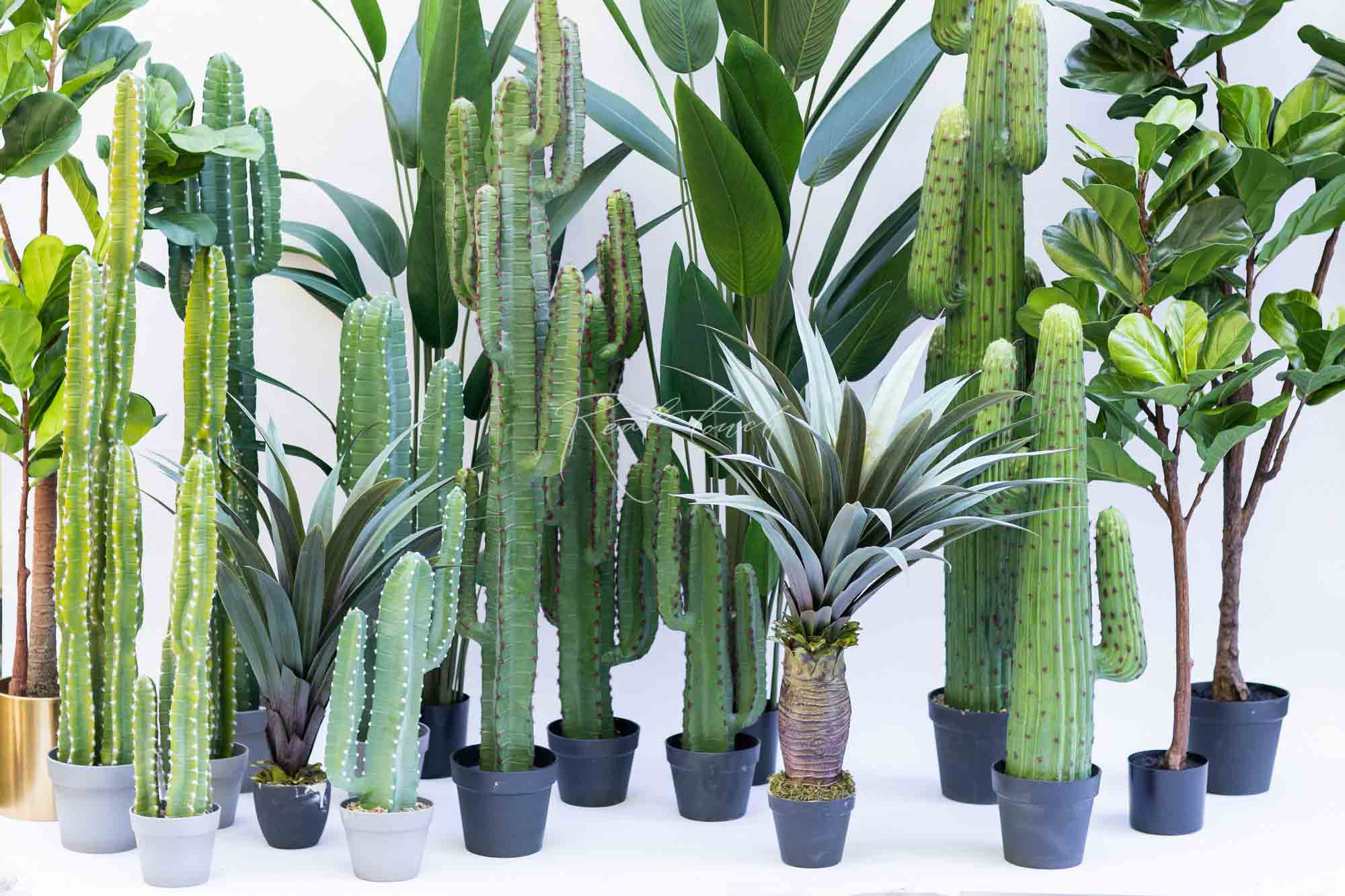 Here are our top 10 faux trees
One of the most eye-catching decorative trees, the artificial Ficus Benjamina Liana is absolutely stunning with its intricately woven trunk and an abundance of green leaves.  Unlike a living tree, the perfectly shaped Real Touch Ficus Benjamina requires no pruning or maintenance. Artificial Ficus Benjamina Liana is available in 3 sizes: 150 cm, 180 cm and 210 cm.


Add an exotic touch with artificial Strelitzia – a spectacular plant with giant, dark green, feather-like leaves. Strelitzia will enhance any interior, it does not take up much space and at the same time attracts attention with its beautiful silhouette. Unlike a real one, artificial strelitzia is maintenance-free.
In our range, you can find faux strelitzia of different sizes and styles.


The faux Ficus Elastica Tineke makes a great choice for interior decor with its lush glossy variegated foliage. This stylish artificial tree will add a special charm to any space. Real Touch ficus is incredibly good for office or home interior landscaping.


The graceful beauty of Dracaena Anita attracts attention and complements any room. When put in an elegant pot, the artificial Dracaena can become a key element of the interior.


Another unusual and luxurious-looking plant is Zamioculcas. Real Touch zamioculcas is elaborated to the very detail and looks strikingly natural with its shiny fleshy leaves.  As opposed to a living plant, the artificial zamioculcas is not poisonous and will last for years. This faux plant will fit into both commercial and residential spaces.


The artificial Ficus Elastica Robusta (also known as Rubber tree) comes in a pot and has lush, large green leaves extending from several stems with a natural texture. Its glossy foliage looks most effective in a spacious, bright room with a minimum of furniture. However, Real Touch Ficus Elastica is so gorgeous that it will decorate any interior.


The artificial Pandanus Veitchii palm tree (also known as screw pine) is presented in 2 sizes. This palm tree has long spiky fronds and an interesting trunk reminiscent of the well-known mandragora root. For the incredibly natural look, the Real Touch palm tree has dry and freshly cut leaves, as well as slightly yellowish tips as if the tree has been standing in the scorching sun.


Variegated leaves are the main feature of the artificial Ficus Benjamina Variegata. Creamy-white spots are randomly spread over the entire surface of the leaves, adding a pop of color to the interior. Real Touch variegated ficus is available in three sizes.


The artificial Cordyline will bring elegance to any space, it looks good both on its own and together with other decorative plants. It is distinguished by its vibrant leaves in a deep dark red shade that will add a beautiful accent to the interior.


Large leaves of a unique shape have made this artificial ficus a popular decoration for rooms designed in different styles. Our company offers this stunning artificial tree in different sizes, with and without a pot.