Real Touch flowers are artificial flowers made of polymers (latex, silicone and other), fabric and plastic. Our flowers have not only a true realistic look, but also when you touch them, you have a sense of touching fresh flowers.
The artificial flowers have been manufactured industrially for more than one hundred years. Until recently the artificial flowers had been made of various fabrics, and just five years ago Chinese manufacturers began to use advanced materials in the production of new-generation artificial flowers, which are known worldwide as Real Touch.
Our company is called Real Touch flowers. This name was chosen as the way to inform a client about consumer properties of the product without even touching it. When our clients touch latex or silicone, most of them visualize their tactile feelings and imagine they touch fresh flowers – as the feelings are quite similar. 
For a precise classification of Real Touch flowers we will describe them more clearly: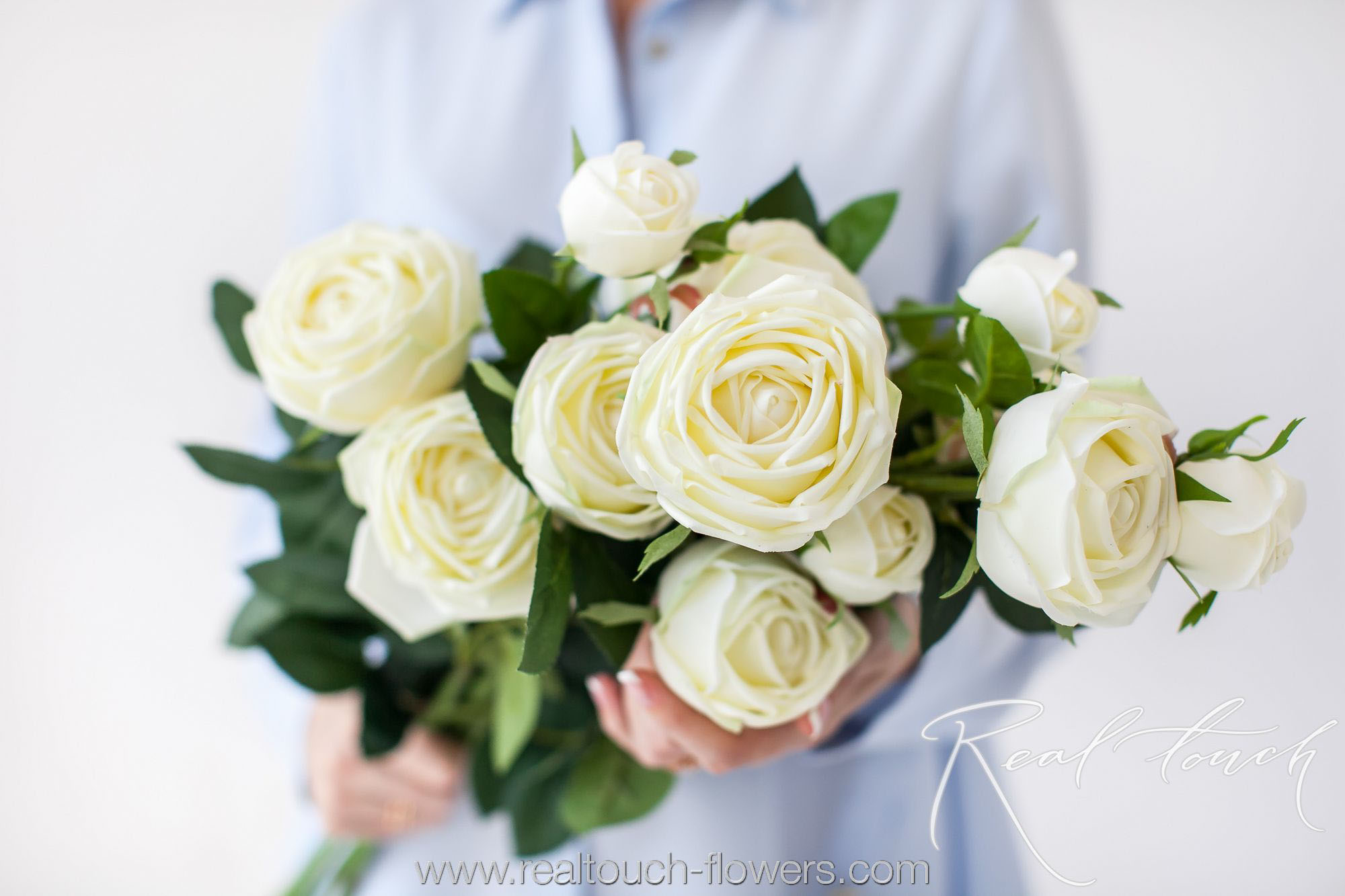 Real Touch flowers made of silk with latex coating
Such flowers are made by cutting petals out of fabric, then these petals are assembled in buds and inflorescences by hand, put down in liquid latex (synthetic rubber, polymer), or after cutting the petals are coated with latex on one side, and then they are assembled in buds. The most popular types of the flowers, which are created this way, are roses and peonies.
Real Touch flowers made of polyurethane.
These flowers are manufactured in the specially equipped press molds. In these press molds the polymer is dyed and placed into the oven. This is a manufacturing method for such flowers as anemones, gerberas, daisies, peonies, tulips, amaryllises, irises, calla lilies and poppies.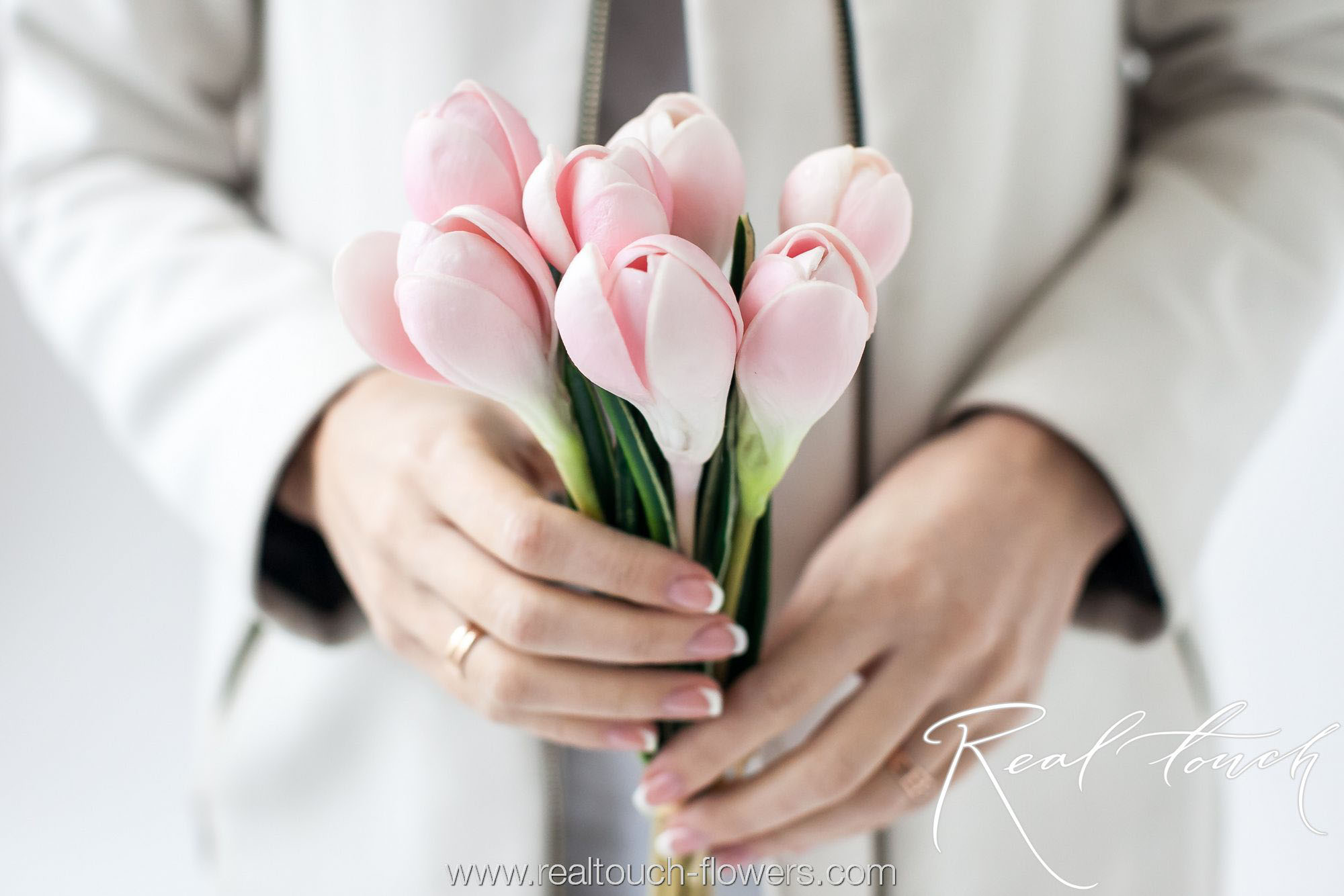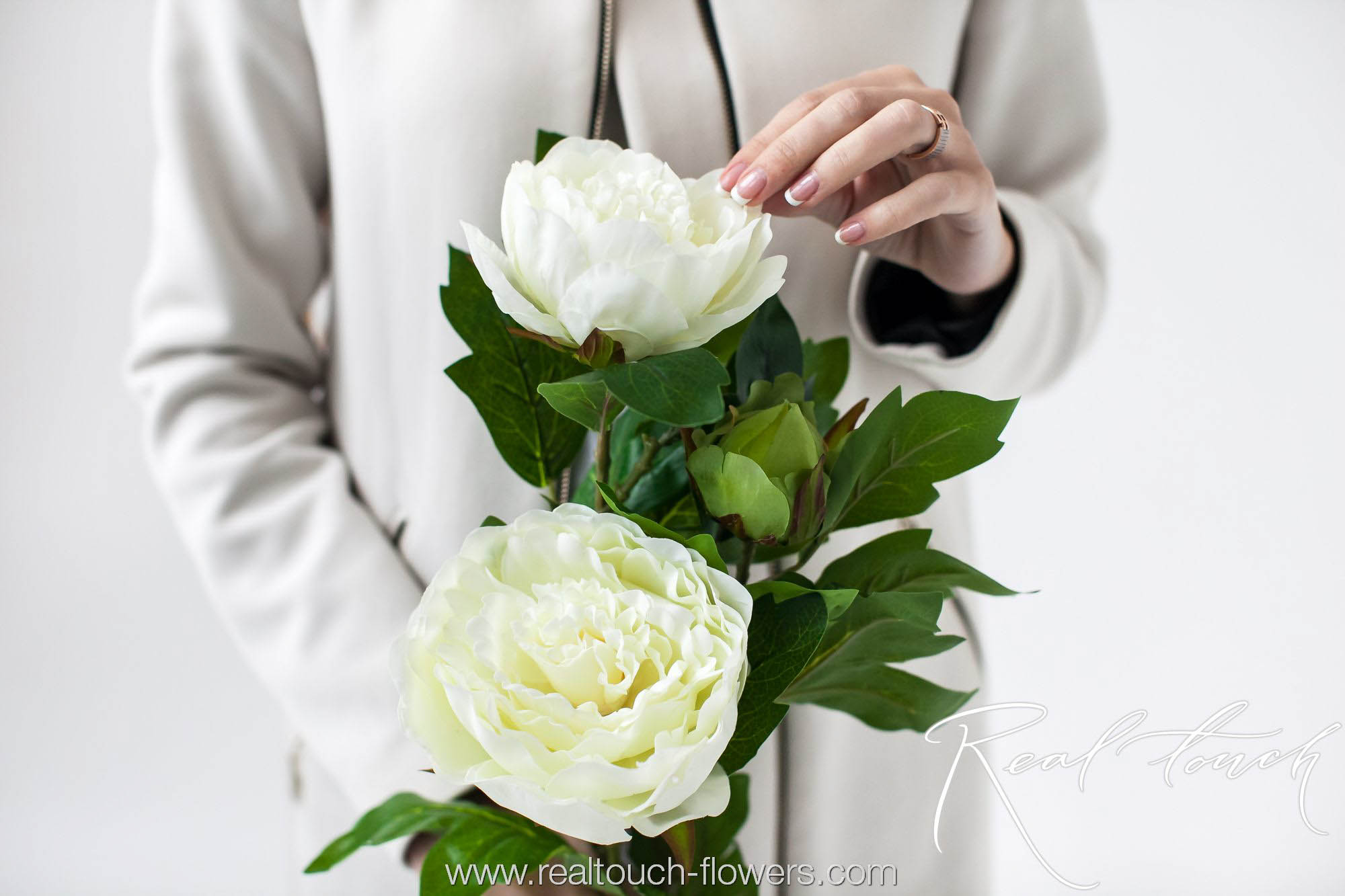 Real Touch flowers made of silicone or solid silicone.
The way of production is the same as for flowers from polyurethane. But in this case another material is used, which is more durable and thinner than polyurethane. Hydrangeas, orchids, calla lilies, lilies, delphiniums, tulips, peonies and amaryllises are made of silicone.
It is essential to note that each manufacturer has its own recipe for producing the flowers. Compositions of polymeric materials (polyurethane, synthetic rubber, silicone and latex) are very different, as each product engineer always carries on experiments on the compositions, trying to achieve better results.
There is a good reason that such classification, which is based on the materials used in the production of the flowers, is chosen. So, for example, silicone roses look highly unrealistic (as it is impossible to replicate texture of petals) and on the contrary, it is extremely difficult to recognize the difference between fresh roses and Real Touch roses made of silk with latex coating. Each type of flowers requires appropriate materials.
We, in our turn, select the best samples of flowers and cooperate with factories, which demonstrate high quality of produced goods.
For more details about materials see the article: Materials used in the production of Real Touch flowers